Exercises in intra-acting: A zone of potential
And an exercise about not dropping out. 'Tape yourself to a green chair.'
Abstract
This article is about the participatory performance event Speak for yourself (Snakk for deg sjøl) performed mainly for teenagers at schools through the Norwegian Cultural Schoolbag program (Den kulturelle skolesekken), but also for an open audience at Hålogaland Theatre and the Arctic Arts Festival. The center of the discussion concerns what has agency to initiate various ways of participation and produce a zone of potential in this performance event. The author is one of the artists of the performance and thus the diffractive analysis is informed by her role as artist-researcher. The study's theoretical framework is inspired by the theory of agential realism from physician and feminist theorist Karen Barad.
The analysis suggests that the initiation of participation is a complex process influenced by both human and non-human performative agents in intra-action with each other. This study will especially focus on the formulation of exercises, performance objects, social media, multiplicity and affect t as performative agents in this performance event. The study indicates that being attentive to the performative agents at play and the kind of participation they produce can potentially create a space where there is room for inclusion, diversity, and unpredictability. This kind of zone of potential also has value for other participatory projects in the intersection between pedagogy and art.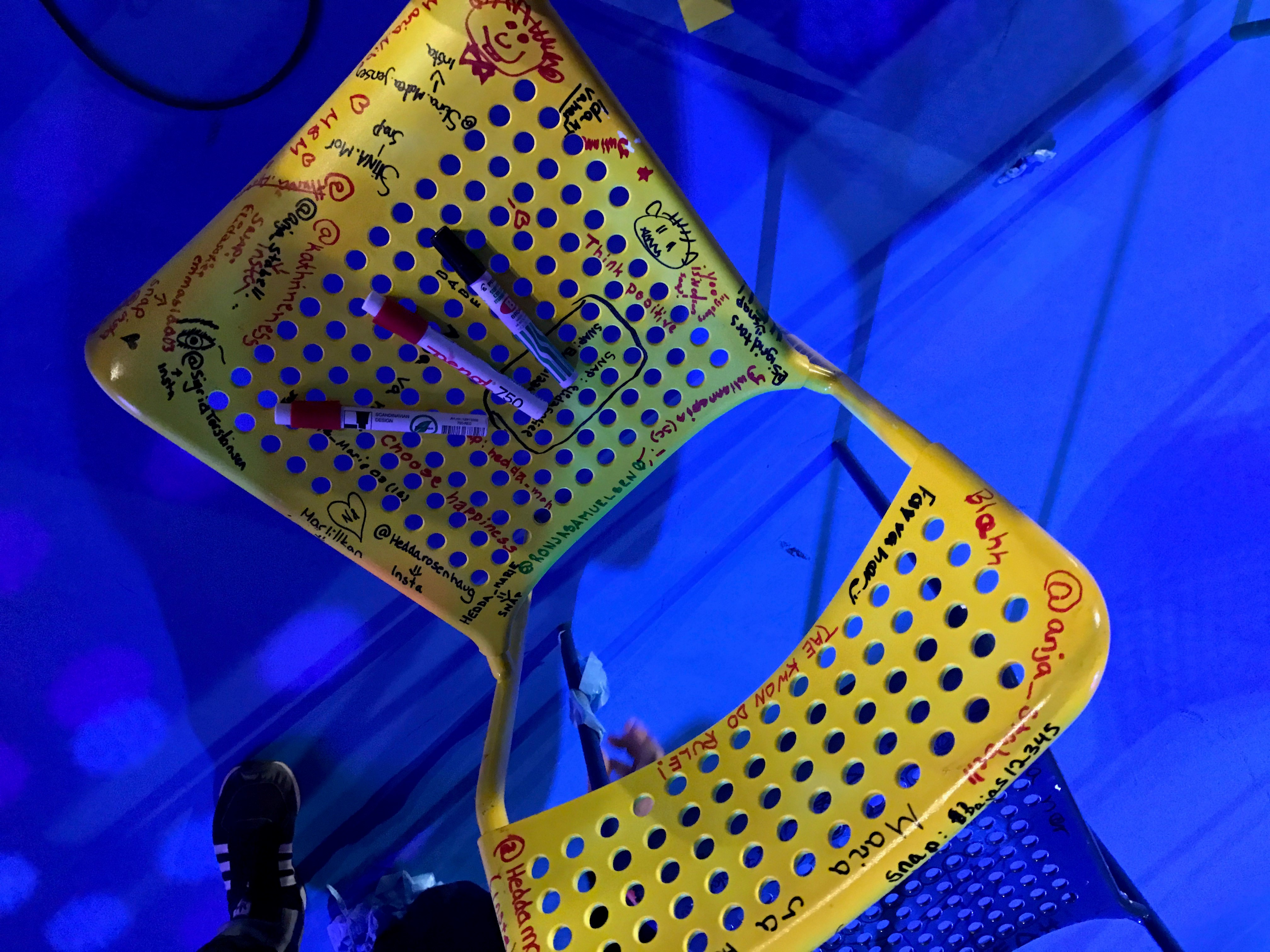 Downloads
How to Cite
Junttila, K. (2020). Exercises in intra-acting: A zone of potential: And an exercise about not dropping out. 'Tape yourself to a green chair.'. Nordic Journal of Art & Research, 9(1). https://doi.org/10.7577/information.4083
License
Copyright (c) 2020 Kristina Junttila
This work is licensed under a Creative Commons Attribution 4.0 International License.
Authors who publish with this journal agree to the following terms:
Authors retain copyright and grant the journal right of first publication with the work simultaneously licensed under a Creative Commons Attribution License that allows others to share the work with an acknowledgement of the work's authorship and initial publication in this journal.
Authors are able to enter into separate, additional contractual arrangements for the non-exclusive distribution of the journal's published version of the work (e.g., post it to an institutional repository or publish it in a book), with an acknowledgement of its initial publication in this journal.
Authors are permitted and encouraged to post their work online (e.g., in institutional repositories or on their website) prior to and during the submission process, as it can lead to productive exchanges, as well as earlier and greater citation of published work (See The Effect of Open Access).