Subjectivation, togetherness, environment. Potentials of participatory art for Art Education for Sustainable Development (AESD)
Abstract
Through a process-oriented analysis of the participatory art project The Hill this article explores the relevance of participatory art projects for the development of AESD – Art Education for Sustainable Development. Inspired by Felix Guattari's Three Ecologies (2008) the analysis moves through three sub-studies delving into three different aspects of the project. Each sub-study adopts two overlapping analytical 'lenses': The lens of a contemporary art form (performance art, community art, and site-specific art) and the lens of a related theoretical concept (subjectivation, togetherness, environment). The aim is to propose art educational ideas and strategies that stimulate students to challenge the current political, economic and environmental situation. Central questions addressed by the article are: How can educators use contemporary artistic strategies to challenge essentialist and opportunistic self-understandings? What is the potential for participatory art forms to explore alternative and more sustainable conceptions of human subjectivity? How can art education work in favour of a sense of interconnectedness between the individual, the social and the environmental dimensions of being? In conclusion, the article proposes art education as a symbolic place for carrying out art-inspired experiments with how to live our lives in more sustainable ways.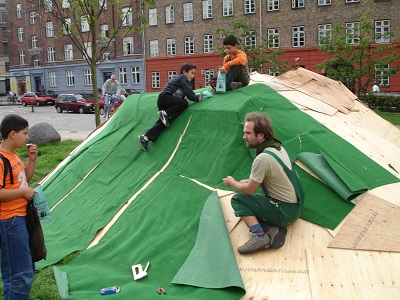 Downloads
How to Cite
Illeris, H. (2017). Subjectivation, togetherness, environment. Potentials of participatory art for Art Education for Sustainable Development (AESD). Nordic Journal of Art & Research, 6(1). https://doi.org/10.7577/information.v6i1.2166
License
Authors who publish with this journal agree to the following terms:
Authors retain copyright and grant the journal right of first publication with the work simultaneously licensed under a Creative Commons Attribution License that allows others to share the work with an acknowledgement of the work's authorship and initial publication in this journal.
Authors are able to enter into separate, additional contractual arrangements for the non-exclusive distribution of the journal's published version of the work (e.g., post it to an institutional repository or publish it in a book), with an acknowledgement of its initial publication in this journal.
Authors are permitted and encouraged to post their work online (e.g., in institutional repositories or on their website) prior to and during the submission process, as it can lead to productive exchanges, as well as earlier and greater citation of published work (See The Effect of Open Access).