Biodiversity and climate change adaptation through non-discrete architectural spaces and architectures
Systemic approach to traditions for sustainable futures
Sammendrag
The research claims that traditions are not static. They develop and adapt based on the present situation. Due to the recent climate extremes coming to formally mild climate locations, their architectures can learn from traditional ones from more climate extreme locations. The present systemic design study on semi-interior, 'non-discrete spaces' (Hensel, 2013; Hensel & Turko, 2015), of Norwegian traditional architectures, so called 'svalgangs' and 'skuts' examine its reuse for today climate change adaptation and support of biodiversity that is currently decreasing. Our agricultural land become so toxic, that its species are recently moving and adapting for life in the cities. The discussed traditional spaces offer various boundary penetration of its surrounding environment while providing mediation of its biotic and abiotic agency. These do not cover only anthropocentric benefits for its users such as light and climate comfort but also offer opportunities of communication with other species or their sheltering.
This practitioners' historical research survey motivated by design co-developes its own systemic process based methodology Systemic Approach to Architectural Performance that originates from 'Systems Oriented Design' (Sevaldson, 2013b) and 'Time Based Design' (Sevaldson, 2004). Where, this 'non-anthropocentric architecture' (Hensel, 2012) is in over-evolving co-design with ambient environment's abiotic and biotic agents, including humans.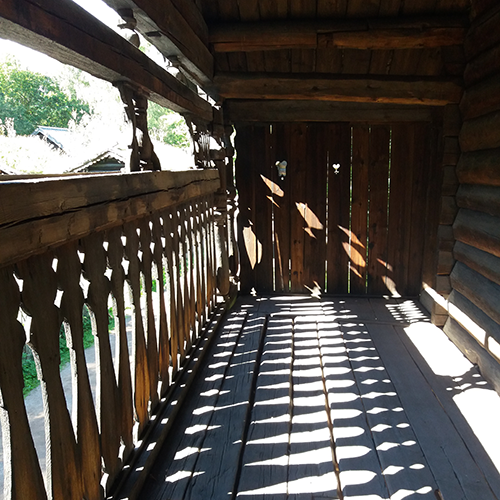 Nedlastinger
Hvordan referere
Davidova, M., & Rakova, D. (2018). Biodiversity and climate change adaptation through non-discrete architectural spaces and architectures: Systemic approach to traditions for sustainable futures. FormAkademisk - forskningstidsskrift for design og designdidaktikk, 11(4). https://doi.org/10.7577/formakademisk.2287
Lisens
Forfatteren(e) beholder sin opphavs- og kopieringsrett til eget manuskript, men gir tidsskriftet varig rett til 1) å fremføre manuskriptet for offentligheten i den opprinnelig publiserte digitale form, og 2) å registreres og siteres som første publisering av manuskriptet.
Forfatteren må selv forvalte sine økonomiske kopieringsrettigheter overfor eventuell tredjepart.
Tidsskriftet gir ingen økonomisk eller annen kompensasjon for innsendte bidrag, medmindre det er gjort særskilt avtale om dette med forfatteren(e).
Tidsskriftet plikter å arkivere manuskriptet (inklusive metadata) i den opprinnelig publiserte digitale form, i minst ett dertil egnet åpent tilgjengelig langtidsarkiv for digitalt materiell, som for eksempel i de norske universitetenes institusjonsarkiv innen rammen av NORA-samarbeidet.
Lesere av tidsskriftet kan ta utskrift av de fremførte manuskriptene under samme betingelser som gjelder ved kopiering av fysiske eksemplar. Dette innebærer at masseframstilling av fysiske eksemplar, eller framstilling av eksemplar for kommersielle formål, ikke er tillatt uten etter avtale med forfatteren(e).