Designing an Interdisciplinary Course in a Makerspace
Towards collaborative creativity for a sustainable society
Sammendrag
The study explored how to develop an elective, interdisciplinary course in a makerspace. The study highlighted the potentials and pitfalls in the transitional space between institutionalised and research-based higher education in relation to the free maker movement. The identified success criteria to set up an elective, interdisciplinary course in a makerspace were connected to the following central concepts: problem, practice, product, bodies of knowledge, critique, scientific discourse, methods, earlier knowledge, personal experience and organisational processes. The study showed how the makerspace elective course can contribute positively to student life by strengthening inclusion, a feeling of belonging, study enjoyment and interdisciplinarity skills in a professional setting. These qualities form a value-based conceptual framework for student active learning that can enable creativity and collaboration, which are essential twenty-first-century skills for a more sustainable society.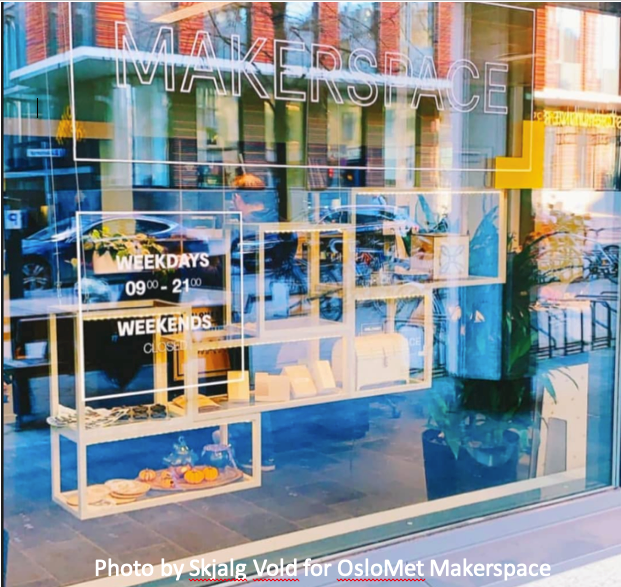 Nedlastinger
Hvordan referere
Berg, A.,  Sandtrø, T. A., Güler, E. ., Carella, A. ., Norvalls, M. ., Thor, J. H. H. ., & Lysebo, M. . (2020). Designing an Interdisciplinary Course in a Makerspace : Towards collaborative creativity for a sustainable society . FormAkademisk - forskningstidsskrift for design og designdidaktikk, 13(6). https://doi.org/10.7577/formakademisk.4015
Lisens
Opphavsrett 2020 Arild Berg, Tengel Aas  Sandtrø, Evin Güler, Alfredo Carella, Mali Norvalls, Jenny Helene Haugen Thor, Marius Lysebo
Dette verket er lisensiert under en Creative Commons Attribution-NoDerivatives 4.0 International Lisens.
Forfatteren(e) beholder sin opphavs- og kopieringsrett til eget manuskript, men gir tidsskriftet varig rett til 1) å fremføre manuskriptet for offentligheten i den opprinnelig publiserte digitale form, og 2) å registreres og siteres som første publisering av manuskriptet.
Forfatteren må selv forvalte sine økonomiske kopieringsrettigheter overfor eventuell tredjepart.
Tidsskriftet gir ingen økonomisk eller annen kompensasjon for innsendte bidrag, medmindre det er gjort særskilt avtale om dette med forfatteren(e).
Tidsskriftet plikter å arkivere manuskriptet (inklusive metadata) i den opprinnelig publiserte digitale form, i minst ett dertil egnet åpent tilgjengelig langtidsarkiv for digitalt materiell, som for eksempel i de norske universitetenes institusjonsarkiv innen rammen av NORA-samarbeidet.
Lesere av tidsskriftet kan ta utskrift av de fremførte manuskriptene under samme betingelser som gjelder ved kopiering av fysiske eksemplar. Dette innebærer at masseframstilling av fysiske eksemplar, eller framstilling av eksemplar for kommersielle formål, ikke er tillatt uten etter avtale med forfatteren(e).