To safeguarding traditional basket making for the future
Emneord (Nøkkelord):
Basket making, Material knowledge, Intangible Cultural Heritage, Traditional skills
Sammendrag
ABSTRACT
Korgen lyfter [Raising Basket knowledge] is a Swedish national project started by handicraft consultants from three different regions in 2019. The project aims to promote basket making and knowledge by strengthening contemporary basket makers, make the diversity of domestic basket traditions visible and increase the interest of basket making. Through efforts in training, inventory work, seminars, lectures and networking, nationally and internationally, the project has made knowledge available and problem­atized the question of the fragile position of basket making. Among other things, the project has been in­volved in developing shorter courses in basket making and started a basket appeal related to the UNESCOs convention for the Safeguarding of the Intangible Cultural Heritage. Through a traveling ex­hi­bi­tion, different events as well as high digital presence, the project has reached many people.
Referanser
Ancient Archaeology. (2023, March 2). Oldest woven basket in the world found in Israel dates back 10,000 years. https://ancient-archaeology.com/2023/03/oldest-woven-basket-in-the-world-found-in-israel-dates-back-10000-years/
Fisher, E. (1980). Woman's creation: sexual evolution and the shaping of society (1. ppk ed.). McGraw-Hill.
Hadevik, C., Hammarstrand Dehman, K., & Serlander, D. (2008). Arkeologiska förundersökningar i form av schaktningsövervakning 2003–2007 Malmö C Nedre – i samband med byggandet av tunnel och ny stationsbyggnad Malmö stad RAÄ 20, Skåne län (Rapport 2008:030). Enheten för Arkeologi.
Hasselrot, J. (1997). Korgar – tradition och teknik [Baskets – tradition and technology]. LT förlag.
Hemslöjdskommittén (1918). Hemslöjdskommitténs betänkande D. 1 Huvudbetänkande och förslag : översikt av den svenska hemslöjdens historia : den svenska hemslöjdens ortskaraktärer : hemslöjden i utlandet [The Hemslöjd Committee's report D. 1 Main report and proposals : overview of the history of the Swedish Hemslöjden : the local characteristics of the Swedish Hemslöjd : the Hemslöjd abroad]. Nordiska bokh.
Korgen lyfter. (2023a). ÄLSKADE KORG! [LOVED BASKET!] www.korgenlyfter.se/alskade-korg
Korgen lifter. (2023b). NATIONELLT KORGUPPROP [NATIONAL BASKET APPEAL] www.korgenlyfter.se/nationelltkorgupprop
Sätergläntan. (2023). Korgar av spån och björkrot, ht 2023 [Baskets of shavings and birch root, ht 2023]. https://www.saterglantan.se/produkt/korgar-av-span-och-bjorkrot-ht-2023/
Senrance, B. (2001). Art of the Basket: Traditional Basktery from Around the World. Thames & Hudson
Swedish University of Agricultural Sciences. (2022). The Programme for Diversity of Cultivated Plants. https://www.slu.se/en/Collaborative-Centres-and-Projects/the-programme-for-diversity-of-cultivated-plants/
Tingbo, A. (1999). Korgmöbelmakeriet i Sverige med utblickar mot övriga Norden. Carlsson.
UNESCO. (n.d.). Safeguarding of the Intangible Cultural Heritage. https://ich.unesco.org/en/convention https://levandekulturarv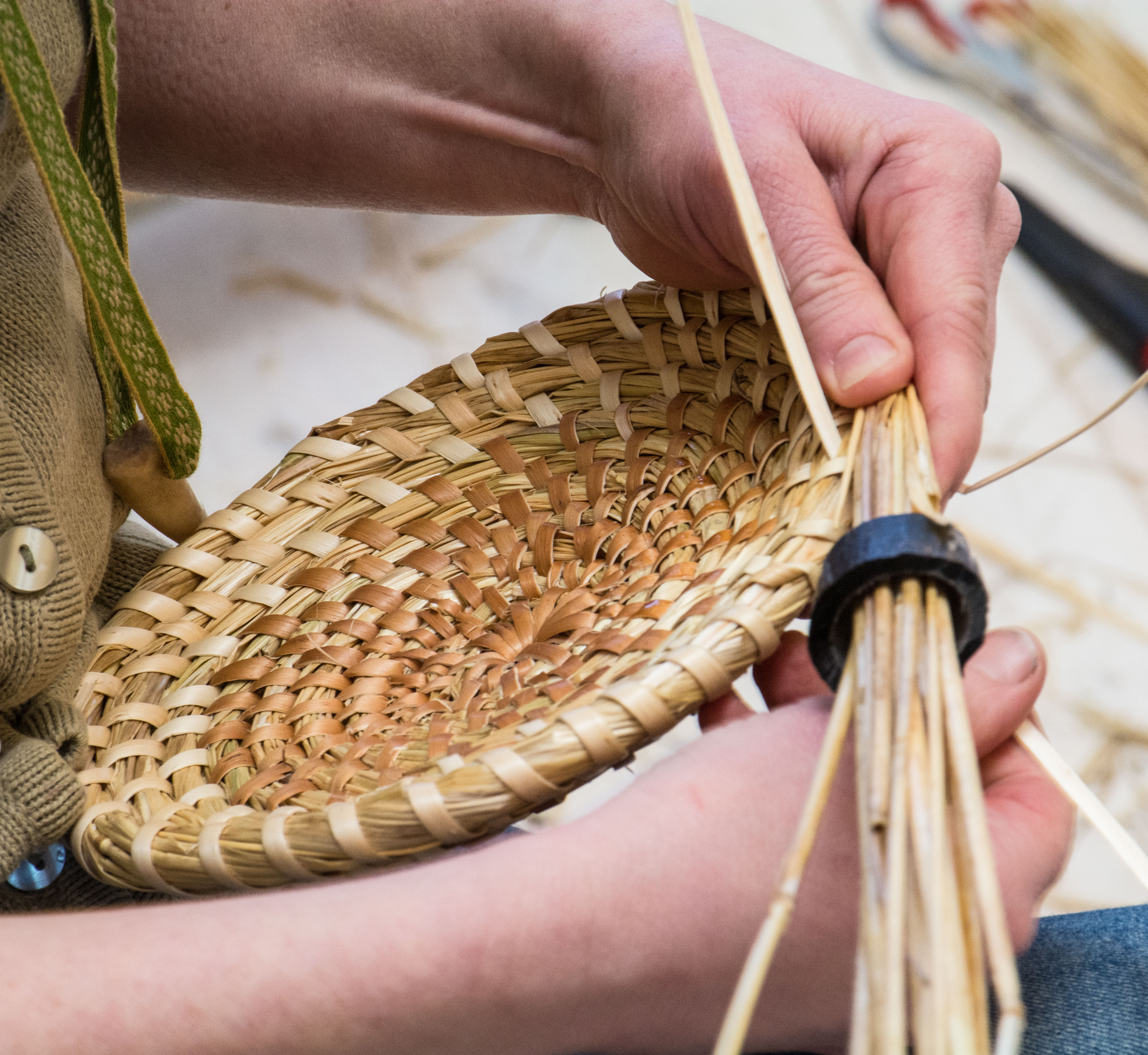 Nedlastinger
Hvordan referere
Åberg, H., & Månsson, S. (2023). To safeguarding traditional basket making for the future. FormAkademisk , 16(4). https://doi.org/10.7577/formakademisk.5489
Lisens
Opphavsrett 2023 Helena Åberg, Sofia Månsson
Dette verket er lisensiert under Creative Commons Attribution-NoDerivatives 4.0 International License.
Forfatteren(e) beholder sin opphavs- og kopieringsrett til eget manuskript, men gir tidsskriftet varig rett til 1) å fremføre manuskriptet for offentligheten i den opprinnelig publiserte digitale form, og 2) å registreres og siteres som første publisering av manuskriptet.
Forfatteren må selv forvalte sine økonomiske kopieringsrettigheter overfor eventuell tredjepart.
Tidsskriftet gir ingen økonomisk eller annen kompensasjon for innsendte bidrag, medmindre det er gjort særskilt avtale om dette med forfatteren(e).
Tidsskriftet plikter å arkivere manuskriptet (inklusive metadata) i den opprinnelig publiserte digitale form, i minst ett dertil egnet åpent tilgjengelig langtidsarkiv for digitalt materiell, som for eksempel i de norske universitetenes institusjonsarkiv innen rammen av NORA-samarbeidet.
Lesere av tidsskriftet kan ta utskrift av de fremførte manuskriptene under samme betingelser som gjelder ved kopiering av fysiske eksemplar. Dette innebærer at masseframstilling av fysiske eksemplar, eller framstilling av eksemplar for kommersielle formål, ikke er tillatt uten etter avtale med forfatteren(e).