The issue of sustainable urban development in a neoliberal age. Discursive entanglements and disputes
Emneord (Nøkkelord):
Sustainable urban development, discourse-coalitions, neoliberalism, cultural heritage
Sammendrag
The city of Oslo, the Norwegian capital, is in the midst of executing a huge urban waterfront project in Bjørvika. This project has triggered several years of public debate. A key concept in the development project is "sustainable development", but it is unclear what the concept implies. Several interests are involved which emphasise different goals and different values. In this article, a discourse analysis of the concept, in this particular context, is conducted. Five discourses are identified, which overlap as well as collide. Special attention is paid to how the respective discourses are related to a neoliberal form of government, and as part of the analysis, a discussion of how cultural heritage is used to increase the city's attractiveness is undertaken. This article concludes that planning for a sustainable use of cultural heritage should imply establishing a reflective cultural policy not subsumed under economic sustainability.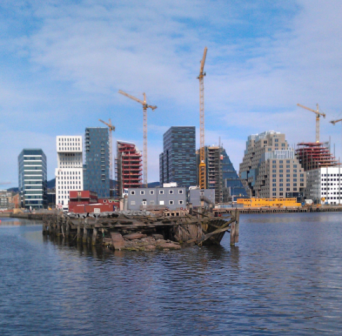 Nedlastinger
Hvordan referere
Skrede, J. (2013). The issue of sustainable urban development in a neoliberal age. Discursive entanglements and disputes. FormAkademisk, 6(1). https://doi.org/10.7577/formakademisk.609
Lisens
Forfatteren(e) beholder sin opphavs- og kopieringsrett til eget manuskript, men gir tidsskriftet varig rett til 1) å fremføre manuskriptet for offentligheten i den opprinnelig publiserte digitale form, og 2) å registreres og siteres som første publisering av manuskriptet.
Forfatteren må selv forvalte sine økonomiske kopieringsrettigheter overfor eventuell tredjepart.
Tidsskriftet gir ingen økonomisk eller annen kompensasjon for innsendte bidrag, medmindre det er gjort særskilt avtale om dette med forfatteren(e).
Tidsskriftet plikter å arkivere manuskriptet (inklusive metadata) i den opprinnelig publiserte digitale form, i minst ett dertil egnet åpent tilgjengelig langtidsarkiv for digitalt materiell, som for eksempel i de norske universitetenes institusjonsarkiv innen rammen av NORA-samarbeidet.
Lesere av tidsskriftet kan ta utskrift av de fremførte manuskriptene under samme betingelser som gjelder ved kopiering av fysiske eksemplar. Dette innebærer at masseframstilling av fysiske eksemplar, eller framstilling av eksemplar for kommersielle formål, ikke er tillatt uten etter avtale med forfatteren(e).