Making design representations as catalysts for reflective making in a collaborative design research process
Emneord (Nøkkelord):
design research method, design representations, rules of play, making, reflecting
Sammendrag
The role of making may seem self-evident in a design context. However, in developing an educational design research course at the Media, Arts and Design faculty (Genk, Belgium), we observed that students tend to lose their focus on making when design and research are intertwined. This paper reflects on a research trajectory that explores how to support students in intertwining making and reflecting throughout the design research process. During this trajectory, we redeveloped design research methods that make use of design representations – i.e. field studies, insights, experiments, prototypes and so on – as a means to connect making and reflecting. Design representations possess informative and inspirational qualities. They are produced by designers to open up their design process and enable communication, collaboration and reflection with others throughout the making process. We will argue that combining design representations with structuring rules of play in a design research method and using these representations throughout the whole design process can improve collaborative reflection-in-action (Schön, 1983), or reflection-in-making, since it allows students to work in a more iterative manner. Illustrated by eight case studies, we describe how we recreated and evaluated a design research method, making use of design representations and structuring rules of play.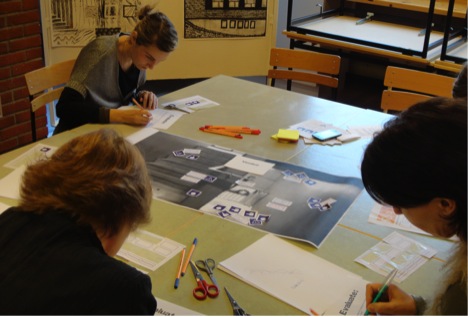 Nedlastinger
Hvordan referere
Schoffelen, J., Schepers, S., Huybrechts, L., & Braspenning, L. (2013). Making design representations as catalysts for reflective making in a collaborative design research process. FormAkademisk , 6(2). https://doi.org/10.7577/formakademisk.711
Lisens
Forfatteren(e) beholder sin opphavs- og kopieringsrett til eget manuskript, men gir tidsskriftet varig rett til 1) å fremføre manuskriptet for offentligheten i den opprinnelig publiserte digitale form, og 2) å registreres og siteres som første publisering av manuskriptet.
Forfatteren må selv forvalte sine økonomiske kopieringsrettigheter overfor eventuell tredjepart.
Tidsskriftet gir ingen økonomisk eller annen kompensasjon for innsendte bidrag, medmindre det er gjort særskilt avtale om dette med forfatteren(e).
Tidsskriftet plikter å arkivere manuskriptet (inklusive metadata) i den opprinnelig publiserte digitale form, i minst ett dertil egnet åpent tilgjengelig langtidsarkiv for digitalt materiell, som for eksempel i de norske universitetenes institusjonsarkiv innen rammen av NORA-samarbeidet.
Lesere av tidsskriftet kan ta utskrift av de fremførte manuskriptene under samme betingelser som gjelder ved kopiering av fysiske eksemplar. Dette innebærer at masseframstilling av fysiske eksemplar, eller framstilling av eksemplar for kommersielle formål, ikke er tillatt uten etter avtale med forfatteren(e).