What We Talk About When We Talk About Design. Toward a Taxonomy of Design Competencies
Emneord (Nøkkelord):
design competence, taxonomy, innovation, industrial design
Sammendrag
What is it that designers talk about as mattering in their professional competencies? In this article, we empirically investigated industrial designers' own assumptions on their design practice in relation to innovation. In applying a method potentially suitable for design research, interview statements from design professionals (n=17) were categorised according to 12 pre-selected categories of potential design core competencies. Of a total of 2,267 statements, 1,990 were classified as related to design competence. A qualitative classification of the statements revealed that 1,259 (63.3%) of these could be classified under the pre-set categories. The results showed that out of the 12 categories, 'creativity', 'particular design methods and techniques' and 'user' were emphasised. From the remaining statements, two additional categories were revealed: 'teamwork' and 'project management'. These results can be used to reveal design professionals' self-understanding of their contributions to innovation processes.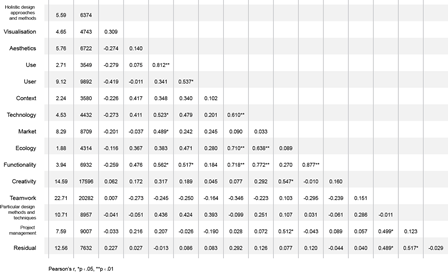 Nedlastinger
Hvordan referere
Røise, Øivind, Edeholt, H., Morrison, A., Bjørkli, C. A., & Hoff, T. (2014). What We Talk About When We Talk About Design. Toward a Taxonomy of Design Competencies. FormAkademisk, 7(2). https://doi.org/10.7577/formakademisk.788
Lisens
Forfatteren(e) beholder sin opphavs- og kopieringsrett til eget manuskript, men gir tidsskriftet varig rett til 1) å fremføre manuskriptet for offentligheten i den opprinnelig publiserte digitale form, og 2) å registreres og siteres som første publisering av manuskriptet.
Forfatteren må selv forvalte sine økonomiske kopieringsrettigheter overfor eventuell tredjepart.
Tidsskriftet gir ingen økonomisk eller annen kompensasjon for innsendte bidrag, medmindre det er gjort særskilt avtale om dette med forfatteren(e).
Tidsskriftet plikter å arkivere manuskriptet (inklusive metadata) i den opprinnelig publiserte digitale form, i minst ett dertil egnet åpent tilgjengelig langtidsarkiv for digitalt materiell, som for eksempel i de norske universitetenes institusjonsarkiv innen rammen av NORA-samarbeidet.
Lesere av tidsskriftet kan ta utskrift av de fremførte manuskriptene under samme betingelser som gjelder ved kopiering av fysiske eksemplar. Dette innebærer at masseframstilling av fysiske eksemplar, eller framstilling av eksemplar for kommersielle formål, ikke er tillatt uten etter avtale med forfatteren(e).