Systems Design Perspective of Healthcare Provision in Humanitarian Aid
Emneord (Nøkkelord):
Systems Design, Socio-Technical-System, Human Factors and Ergonomics, User-Centred Design, Product-Service Systems, Medical Equipment, International Emergency Relief, Humanitarian Innovation
Sammendrag
This study focuses on the role of Systems Design in addressing the challenges of healthcare provision by international emergency relief organizations in developing countries. More specifically the challenges related to the safety and performance of medical equipment that is transferred in the aftermath of a humanitarian crisis. The aim of this paper is to describe the transfer of medical equipment and its associated challenges from a systems perspective and to reflect on the value of Systems Design as an approach to humanitarian innovation, addressing the identified systemic challenges. The concepts of Human Factors and Ergonomics, and Product-Service Systems will be presented as valuable contributions to support designers in handling a larger degree of complexity throughout the design process and to support them to make informed choices regarding this particular context.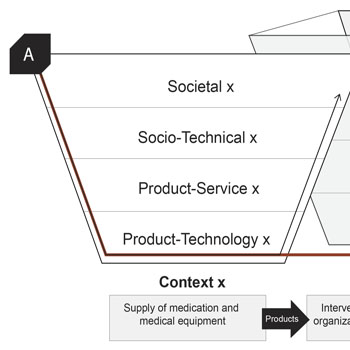 Nedlastinger
Hvordan referere
Santos, A. L., & Wauben, L. S. (2014). Systems Design Perspective of Healthcare Provision in Humanitarian Aid. FormAkademisk, 7(3). https://doi.org/10.7577/formakademisk.790
Lisens
Forfatteren(e) beholder sin opphavs- og kopieringsrett til eget manuskript, men gir tidsskriftet varig rett til 1) å fremføre manuskriptet for offentligheten i den opprinnelig publiserte digitale form, og 2) å registreres og siteres som første publisering av manuskriptet.
Forfatteren må selv forvalte sine økonomiske kopieringsrettigheter overfor eventuell tredjepart.
Tidsskriftet gir ingen økonomisk eller annen kompensasjon for innsendte bidrag, medmindre det er gjort særskilt avtale om dette med forfatteren(e).
Tidsskriftet plikter å arkivere manuskriptet (inklusive metadata) i den opprinnelig publiserte digitale form, i minst ett dertil egnet åpent tilgjengelig langtidsarkiv for digitalt materiell, som for eksempel i de norske universitetenes institusjonsarkiv innen rammen av NORA-samarbeidet.
Lesere av tidsskriftet kan ta utskrift av de fremførte manuskriptene under samme betingelser som gjelder ved kopiering av fysiske eksemplar. Dette innebærer at masseframstilling av fysiske eksemplar, eller framstilling av eksemplar for kommersielle formål, ikke er tillatt uten etter avtale med forfatteren(e).