Art, Age & Health: A Research Journey about Developing Reminiscence Theatre in an Age-Exchange Project
Sammendrag
In this article, the researcher studies how it is possible to develop a reminiscence theatre production in an age-exchange project, created with life stories from pensioners, and how the audience experiences the performance. The article is based on six focus group interviews with nine pensioners, a theatre production and a "reminiscence café" between the audience and the actors, arranged after the performance. The researcher designed the study, "The aged as a resource", based on guidelines for performance ethnography, art-based research, practice-led research and artistic research, in order to combine science and art, which could be said to represent two different epistemological traditions.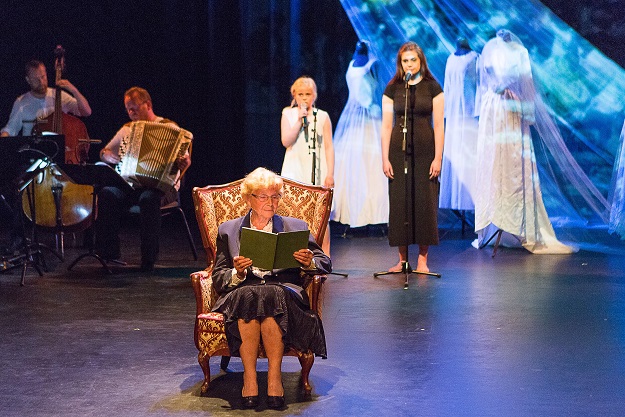 Nedlastinger
Hvordan referere
Gjærum, R. G. (2013). Art, Age & Health: A Research Journey about Developing Reminiscence Theatre in an Age-Exchange Project. Nordic Journal of Art and Research, 2(2). https://doi.org/10.7577/information.v2i2.736
Lisens
Forfattere som publiserer med dette tidsskriftet må være enige i følgende vilkår:
a) Forfattere beholder opphavsrett, men gir tidsskriftet rett til første publikasjon med arbeidet, samtidig som artikkelen er lisensiert under en Creative Commons Attribution-lisens som tillater andre å dele arbeidet med en anerkjennelse og referanse til forfatterskap og første publikasjon i dette tidsskriftet.
b) Forfattere må ikke inngå separate, ytterligere kontraktsmessige ordninger for eksklusiv distribusjon av artikkelens publiserte versjon av arbeidet (for eksempel legge det til et institusjonelt arkiv eller publisere det i en fagbok), uten referanse en anerkjennelse av hvor artikkelen først ble publisert. Dette gjelder for eksempel artikler som publiseres i Nordisk Barnehageforskning og som senere blir del av et doktorgradsarbeid. Da er det viktig å ha tydelige referanser til hvor og når artikkelen er publisert første gang.
c). Forfattere kan ikke legge inn sine arbeid på nettet eller publisere dem i en doktoravhandling (for eksempel i institusjonelle arkiv eller på en hjemmeside) før eller under innsendings- og fagfellevurderingsprosessen, da dette kan skape uorden i referansesystemet til artikkelen.