Editorial
PhEmaterialism: Response-able Research & Pedagogy
Abstract
This Special Issue offers PhEmaterialisms as a way to explore the world asvital and complex, while simultaneously being response-able to the multiple ethical imperatives of late-stage capitalism. We argue that PhEmaterialist thinking and practices can help us grapple with growing educational complexities, enabling strategies toresist and create alternatives to the patterns of injustice occurring across the world, from burgeoning ethno-nationalist and neo-fascist political movements, to rising global poverty levels, to massive population displacements, to environmental degradation, to toxic internet movements grounded in misogyny, homophobia, transphobia, and xenophobia (Strom & Martin, 2017a). To understand, enquire into, and generate action worthy of the complexity of our times requires a fundamental shift in our thinking and research practice. This shift disrupts the foundational logic on which dominant thinking in education (and indeed, all Western society) is based—humanism and anthropocentrism (Braidotti, 2013; Murris, 2016; Snaza et al, 2014). Instead, we argue that we need to put theories/concepts to work in education and educational research which can better account for the multiple, entangled, ever-shifting, difference-rich nature of processes of teaching, learning, schooling, and activism. For this work, we also draw on a rich feminist legacy attentive to unequal power relations (e.g., Ahmed, 1998; Anzaldua, 1999; hooks, 1994; Spivak, 1978), and our critical approach to rethinking Vitruvian "man" is especially informed by posthuman/new materialist feminist thinkings and thinkers, including Rosi Braidotti, Donna Haraway, and Karen Barad.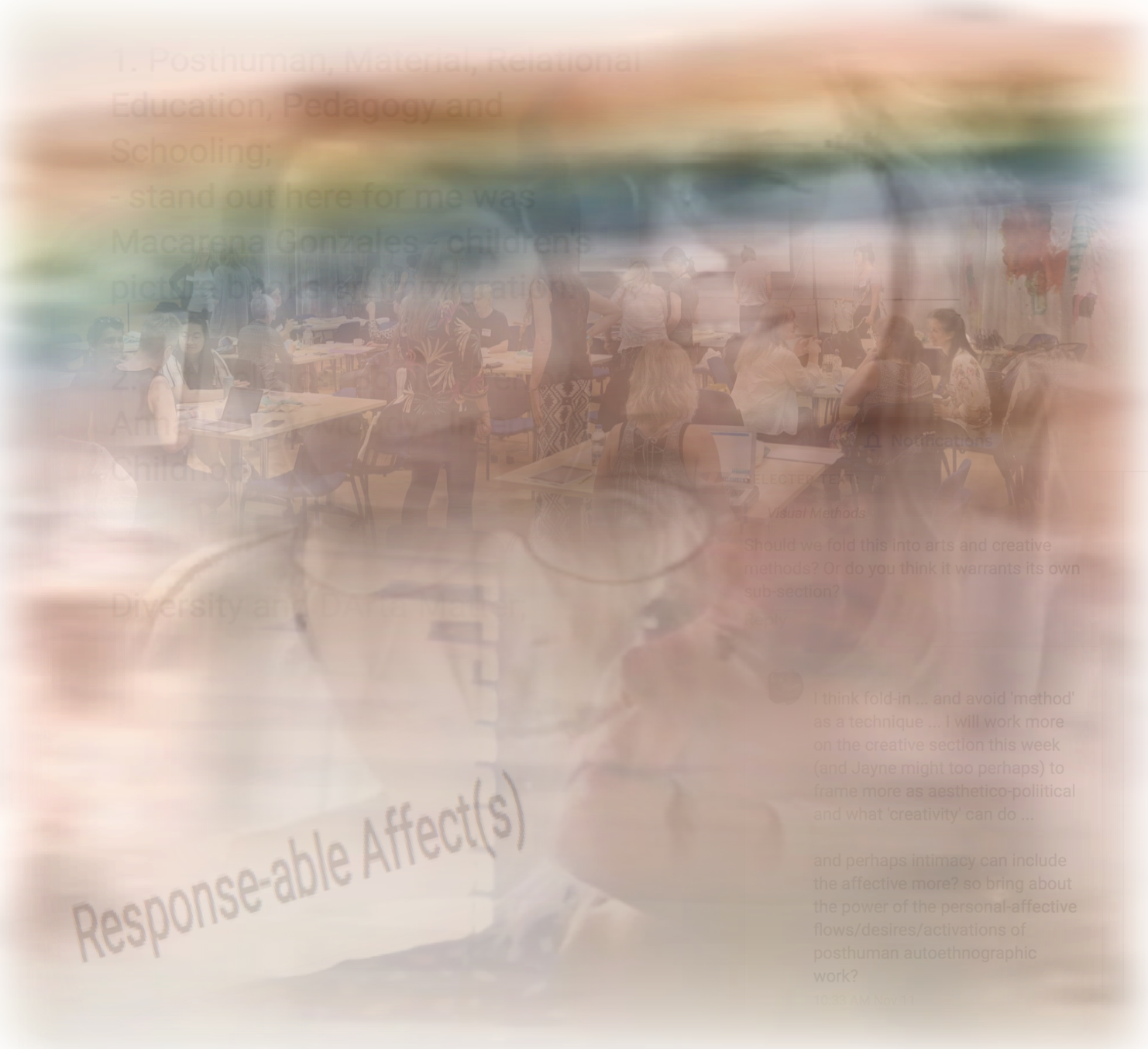 Downloads
How to Cite
Strom, K., Ringrose, J. ., Osgood, J., & Renold, E. (2019). Editorial: PhEmaterialism: Response-able Research & Pedagogy . Reconceptualizing Educational Research Methodology, 10(2-3). https://doi.org/10.7577/rerm.3649
License
Authors who publish with this journal agree to the following terms:


a. Authors retain copyright and grant the journal right of first publication with the work simultaneously licensed under a Creative Commons Attribution License that allows others to share the work with an acknowledgement of the work's authorship and initial publication in this journal.
b. Authors are able to enter into separate, additional contractual arrangements for the non-exclusive distribution of the journal's published version of the work (e.g., post it to an institutional repository or publish it in a book), with an acknowledgement of its initial publication in this journal.
c. Authors are permitted and encouraged to post their work online (e.g., in institutional repositories or on their website) prior to and during the submission process, as it can lead to productive exchanges, as well as earlier and greater citation of published work (See The Effect of Open Access).