Listening to the Forest
Keywords:
video art, attention, field recording
Abstract
Listening to the forest is a streamed video essay in which you are invited to pay attention to audiovisual relations between human, landscape and moving image. Moving images are explored through a camera-based field recording practice that emphasises them as part of an ecological materiality, inseparable from what they depict and how they are seen.
References
Benson, S., & Montgomery, W. (eds.). (2018). Writing the Field Recording: Sound, Word, Environment. Edinburgh University Press. https://doi.org/10.1515/9781474406703
Bijvoet, M. (1997). Art as Inquiry. New York: Peter Lang.
Gunning, T. (1994). The World as Object Lesson. Film History, 6(4), 422–444.
Ingold, T. (2015). The Life of Lines. Routledge. https://doi.org/10.4324/9781315727240
Kaye, N. (2000). Site-specific Art. London; Routledge.
Kwon, M. (2004). One Place after Another. The MIT Press.
Røed, E. (2014). Skyvelære. Kunsthøgskolen i Bergen.
Voegelin, S. (2012). Ethics of Listening. Journal of Sonic Studies, 2(1)
Voegelin, S. (2014). Collateral Damage. In WIRE, May 2014, Retrieved 1 December 2021 from http://www.thewire.co.uk/in-writing/collateral-damage/collateral-damage_salome-voegelin
References in video essay
Deleuze, G. (1986). Cinema I: The Movement-Image, trans. Hugh Tomlinson and Barbara Habberjam, University of Minnesota Press.
Holt, N. (1975). Pine Barrens, New Jersey. [Film]. Holt/Smithson Foundation, Santa Fe.
Larkin, P. (2001). Terrain Seed Scarcity: Poems from a Decade. Cambridge: Salt.
Lidén, S. (2022) Signe Lidén. [Website]. Retrieved 09 09, 2022 from https://signeliden.com/.
Lidén, S. & Røed, E. (2022) KOMPASS [Exhibition]. Trafo Kunsthall, Asker.
Lossius, T. (2013). Losing myself in the world. In Sonozones. Retrieved 09 09, 2022 from https://www.researchcatalogue.net/view/48986/65823.
Lucier, M. (1975). Dawn Burn. [Video installation]. Collection SFMOMA, San Fransisco.
Snow, M. (1971). La Région Centrale. [Film]. National Gallery of Canada, Ottawa.
Vasulka, S. (1982). Summer Salt [Video]. The Daniel Langlois Foundation Collection, Montreal.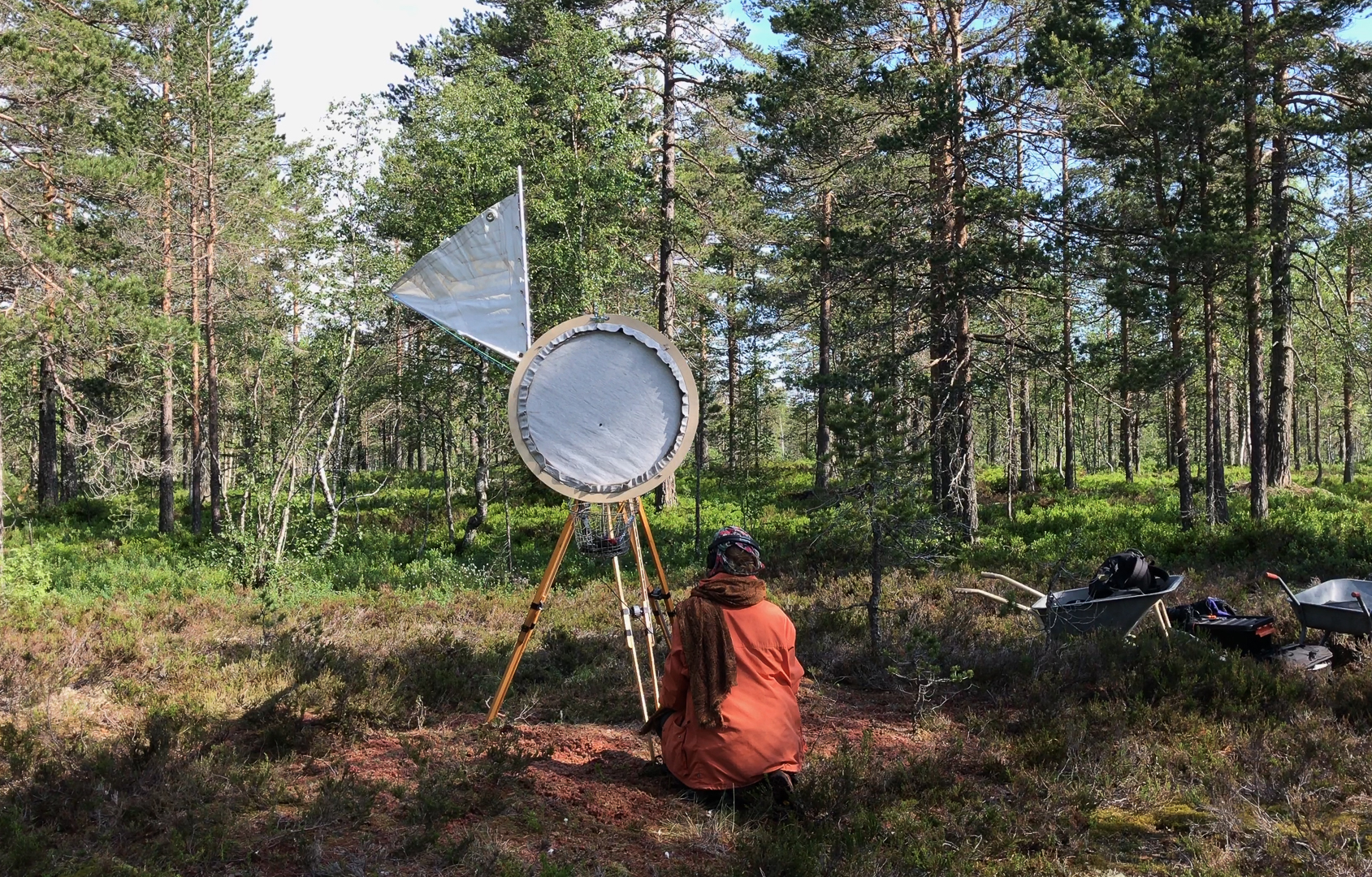 Downloads
How to Cite
Røed, E. J. (2022). Listening to the Forest. Nordic Journal of Art & Research, 11(1). https://doi.org/10.7577/information.5043
Section
Artistic Research Project
License
Copyright (c) 2022 Ellen Johanne Røed
This work is licensed under a Creative Commons Attribution 4.0 International License.
Authors who publish with this journal agree to the following terms:
Authors retain copyright and grant the journal right of first publication with the work simultaneously licensed under a Creative Commons Attribution License that allows others to share the work with an acknowledgement of the work's authorship and initial publication in this journal.
Authors are able to enter into separate, additional contractual arrangements for the non-exclusive distribution of the journal's published version of the work (e.g., post it to an institutional repository or publish it in a book), with an acknowledgement of its initial publication in this journal.
Authors are permitted and encouraged to post their work online (e.g., in institutional repositories or on their website) prior to and during the submission process, as it can lead to productive exchanges, as well as earlier and greater citation of published work (See The Effect of Open Access).