Designing tangible interaction using short-range RFID
Emneord (Nøkkelord):
design activity, interface design, technology, affordance, Tap and Hold, SR-RFID
Sammendrag
Short-range Radio Frequency IDentification (SR-RFID) technology embedded in mobile phones offers interaction design practitioners the potential to design new forms of mobile experiences. The article presents a design oriented research study that seeks to develop affordances specifically in support of such practice. To do so the authors draw on Activity Theory. They present three levels of SR-RFID related design affordances: need related design affordances, instrumental design affordances and operational design affordances. Included also is what they label 'RFID based Tap and Hold'; a term used so as to frame tangible interaction on SR-RFID. A generative and descriptive model of Tap and Hold is proposed, as is a set of input techniques derived from the Tap and Hold model. Overall, the study suggests opening out from functional views of SR-RFID to ones that view it as a technology applicable for designers exploring potential new interactions. This is important since such work may be used to support the generation of new designs, an area often overlooked in research on RFID.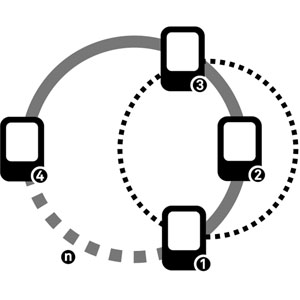 Nedlastinger
Hvordan referere
Nordby, K., & Morrison, A. (2010). Designing tangible interaction using short-range RFID. FormAkademisk, 3(2). https://doi.org/10.7577/formakademisk.112
Lisens
Forfatteren(e) beholder sin opphavs- og kopieringsrett til eget manuskript, men gir tidsskriftet varig rett til 1) å fremføre manuskriptet for offentligheten i den opprinnelig publiserte digitale form, og 2) å registreres og siteres som første publisering av manuskriptet.
Forfatteren må selv forvalte sine økonomiske kopieringsrettigheter overfor eventuell tredjepart.
Tidsskriftet gir ingen økonomisk eller annen kompensasjon for innsendte bidrag, medmindre det er gjort særskilt avtale om dette med forfatteren(e).
Tidsskriftet plikter å arkivere manuskriptet (inklusive metadata) i den opprinnelig publiserte digitale form, i minst ett dertil egnet åpent tilgjengelig langtidsarkiv for digitalt materiell, som for eksempel i de norske universitetenes institusjonsarkiv innen rammen av NORA-samarbeidet.
Lesere av tidsskriftet kan ta utskrift av de fremførte manuskriptene under samme betingelser som gjelder ved kopiering av fysiske eksemplar. Dette innebærer at masseframstilling av fysiske eksemplar, eller framstilling av eksemplar for kommersielle formål, ikke er tillatt uten etter avtale med forfatteren(e).