Co-designing with relationships in mind
Emneord (Nøkkelord):
design for public services, relational welfare, relational services, material thinking, systems oriented design, systems thinking, co-design
Sammendrag
We need to move from object-oriented thinking towards relational thinking for many reasons. As public services become more complex, their design increasingly focuses on the relationships between people.  The role of the traditional service staff is shifting from a 'provider' to an 'enabler' and 'facilitator' of relationships between service users, their peers, family or members of the civil service.  Many agree that the future of public services relies on relational services, relational welfare and a relational state. Yet we don't have a shared vocabulary to describe good relationships nor materials to design for services that support meaningful relationships. We visually perceive the world as fragmented parts rather than seeing the connection amongst the parts. This perception is integrated with cognition, therefore when mapping complex systems, nodes are emphasized over their relations in-between. Categorizing and color-coding types of systemic relations are useful to understand but not sufficient to shape complex social relationships. We propose a multi-sensory relational tool that aids public servants, designers and users in understanding social relationships through the use of material properties as new design materials. Testing this tool revealed that people are enabled, within a short timeframe, to create a shared relational vocabulary and use the tool to co-design new service concepts. However, future research needs to address how to move from theory to practice, hence from concepts to prototyping.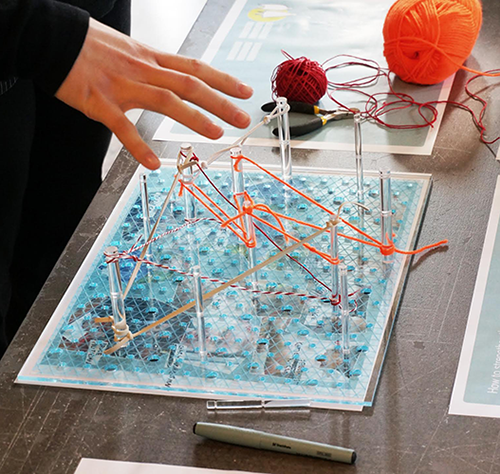 Nedlastinger
Hvordan referere
Aguirre-Ulloa, M., & Paulsen, A. (2017). Co-designing with relationships in mind. FormAkademisk, 10(1). https://doi.org/10.7577/formakademisk.1608
Lisens
Forfatteren(e) beholder sin opphavs- og kopieringsrett til eget manuskript, men gir tidsskriftet varig rett til 1) å fremføre manuskriptet for offentligheten i den opprinnelig publiserte digitale form, og 2) å registreres og siteres som første publisering av manuskriptet.
Forfatteren må selv forvalte sine økonomiske kopieringsrettigheter overfor eventuell tredjepart.
Tidsskriftet gir ingen økonomisk eller annen kompensasjon for innsendte bidrag, medmindre det er gjort særskilt avtale om dette med forfatteren(e).
Tidsskriftet plikter å arkivere manuskriptet (inklusive metadata) i den opprinnelig publiserte digitale form, i minst ett dertil egnet åpent tilgjengelig langtidsarkiv for digitalt materiell, som for eksempel i de norske universitetenes institusjonsarkiv innen rammen av NORA-samarbeidet.
Lesere av tidsskriftet kan ta utskrift av de fremførte manuskriptene under samme betingelser som gjelder ved kopiering av fysiske eksemplar. Dette innebærer at masseframstilling av fysiske eksemplar, eller framstilling av eksemplar for kommersielle formål, ikke er tillatt uten etter avtale med forfatteren(e).