Depth of Field: Discursive design research through film
Emneord (Nøkkelord):
interaction design, product design, discursive design, emerging technologies, RFID, film, reflective, communication, mediation
Sammendrag
This article is about the role of film in interaction and product design research with technology, and the use of film in exploring and explaining emerging technologies in multiple contexts. We have engaged in a reflective design research process that uses graphical, audiovisual, and time-based media as a tool, a material and a communicative artefact that enables us to approach complex, obscure and often invisible emerging technologies. We give a discursive account of how film has played an intricate role in our design research practice, from revealing the materiality of invisible wireless technology, to explaining complex technical prototypes, to communicating to a public audience through online films that may fold broader social and cultural discourses back into our design research process. We conclude by elaborating on discursive design approaches to research that use film as a reflective and communicative medium that allows for design research to operate within a social and cultural frame.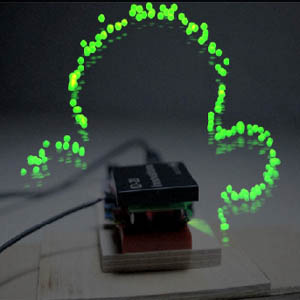 Nedlastinger
Hvordan referere
Arnall, T., & Martinussen, E. S. (2010). Depth of Field: Discursive design research through film. FormAkademisk , 3(1). https://doi.org/10.7577/formakademisk.189
Lisens
Forfatteren(e) beholder sin opphavs- og kopieringsrett til eget manuskript, men gir tidsskriftet varig rett til 1) å fremføre manuskriptet for offentligheten i den opprinnelig publiserte digitale form, og 2) å registreres og siteres som første publisering av manuskriptet.
Forfatteren må selv forvalte sine økonomiske kopieringsrettigheter overfor eventuell tredjepart.
Tidsskriftet gir ingen økonomisk eller annen kompensasjon for innsendte bidrag, medmindre det er gjort særskilt avtale om dette med forfatteren(e).
Tidsskriftet plikter å arkivere manuskriptet (inklusive metadata) i den opprinnelig publiserte digitale form, i minst ett dertil egnet åpent tilgjengelig langtidsarkiv for digitalt materiell, som for eksempel i de norske universitetenes institusjonsarkiv innen rammen av NORA-samarbeidet.
Lesere av tidsskriftet kan ta utskrift av de fremførte manuskriptene under samme betingelser som gjelder ved kopiering av fysiske eksemplar. Dette innebærer at masseframstilling av fysiske eksemplar, eller framstilling av eksemplar for kommersielle formål, ikke er tillatt uten etter avtale med forfatteren(e).