DRS // CUMULUS Oslo 2013. The 2nd International Conference for Design Education Researchers
Sammendrag
14-17 May 2013, Oslo, Norway
We have received more than 200 full papers for the 2nd International Conference for Design Education Researchers in Oslo.
This international conference is a springboard for sharing ideas and concepts about contemporary design education research. Contributors are invited to submit research that deals with different facets of contemporary approaches to design education research. All papers will be double-blind peer-reviewed. This conference is open to research in any aspect and discipline of design education
Conference theme
Design Learning for Tomorrow - Design Education from Kindergarten to PhD
Designed artefacts and solutions influence our lives and values, both from a personal and societal perspective. Designers, decision makers, investors and consumers hold different positions in the design process, but they all make choices that will influence our future visual and material culture. To promote sustainability and meet global challenges for the future, professional designers are dependent on critical consumers and a design literate general public.  For this purpose design education is important for all. We propose that design education in general education represents both a foundation for professional design education and a vital requirement for developing the general public's competence for informed decision making.
REGISTRATION AT http://www.hioa.no/DRScumulus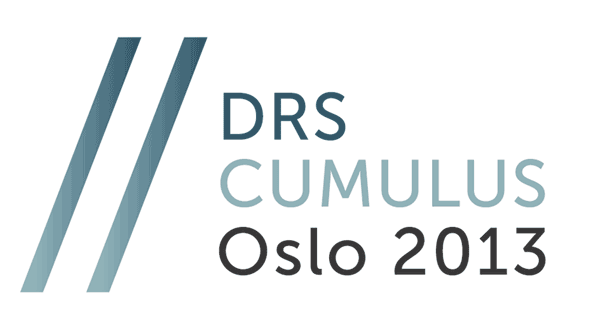 Nedlastinger
Hvordan referere
Nielsen, L. M. (2013). DRS // CUMULUS Oslo 2013. The 2nd International Conference for Design Education Researchers. FormAkademisk - forskningstidsskrift for design og designdidaktikk, 5(2). https://doi.org/10.7577/formakademisk.506
Seksjon
Informasjon om kommmende konferanser
Lisens
Forfatteren(e) beholder sin opphavs- og kopieringsrett til eget manuskript, men gir tidsskriftet varig rett til 1) å fremføre manuskriptet for offentligheten i den opprinnelig publiserte digitale form, og 2) å registreres og siteres som første publisering av manuskriptet.
Forfatteren må selv forvalte sine økonomiske kopieringsrettigheter overfor eventuell tredjepart.
Tidsskriftet gir ingen økonomisk eller annen kompensasjon for innsendte bidrag, medmindre det er gjort særskilt avtale om dette med forfatteren(e).
Tidsskriftet plikter å arkivere manuskriptet (inklusive metadata) i den opprinnelig publiserte digitale form, i minst ett dertil egnet åpent tilgjengelig langtidsarkiv for digitalt materiell, som for eksempel i de norske universitetenes institusjonsarkiv innen rammen av NORA-samarbeidet.
Lesere av tidsskriftet kan ta utskrift av de fremførte manuskriptene under samme betingelser som gjelder ved kopiering av fysiske eksemplar. Dette innebærer at masseframstilling av fysiske eksemplar, eller framstilling av eksemplar for kommersielle formål, ikke er tillatt uten etter avtale med forfatteren(e).