Explorative Materiality and Knowledge. The Role of Creative Exploration and Artefacts in Design Research
Emneord (Nøkkelord):
design, research, practice, knowledge, creative exploration, artefact
Sammendrag
Juxtaposing the nature of design and the foundations of research in the traditional science and humanities disciplines puts their differences into sharp relief. The comparison highlights the key characteristics of design – its creative and experiential nature – which any design research must take into account, as well as the theoretical foundations of research. The aim of this article is to develop an understanding of the ontological, epistemological and methodological issues of design research, and to offer a framework that can embrace equally the notions of creativity and experiential knowledge, and of academic rigour. Furthermore, the potential roles of the design process and artefact within research are examined within this theoretical framework, which suggests that design processes and artefacts can – if appropriately framed – play an important part in the research process, facilitating an approach commensurate with the aims of design enquiry. A case study of the Niedderer's own work serves to illustrate the balance and integration of theory and (creative) practice within the research process, and how this integration can enable a multi-layered contribution to the theoretical and practical advancement of the field.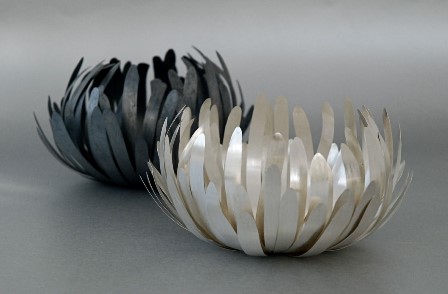 Nedlastinger
Hvordan referere
Niedderer, K. (2013). Explorative Materiality and Knowledge. The Role of Creative Exploration and Artefacts in Design Research. FormAkademisk , 6(2). https://doi.org/10.7577/formakademisk.651
Seksjon
Inviterte Artikler
Lisens
Forfatteren(e) beholder sin opphavs- og kopieringsrett til eget manuskript, men gir tidsskriftet varig rett til 1) å fremføre manuskriptet for offentligheten i den opprinnelig publiserte digitale form, og 2) å registreres og siteres som første publisering av manuskriptet.
Forfatteren må selv forvalte sine økonomiske kopieringsrettigheter overfor eventuell tredjepart.
Tidsskriftet gir ingen økonomisk eller annen kompensasjon for innsendte bidrag, medmindre det er gjort særskilt avtale om dette med forfatteren(e).
Tidsskriftet plikter å arkivere manuskriptet (inklusive metadata) i den opprinnelig publiserte digitale form, i minst ett dertil egnet åpent tilgjengelig langtidsarkiv for digitalt materiell, som for eksempel i de norske universitetenes institusjonsarkiv innen rammen av NORA-samarbeidet.
Lesere av tidsskriftet kan ta utskrift av de fremførte manuskriptene under samme betingelser som gjelder ved kopiering av fysiske eksemplar. Dette innebærer at masseframstilling av fysiske eksemplar, eller framstilling av eksemplar for kommersielle formål, ikke er tillatt uten etter avtale med forfatteren(e).