Drawing with Metaphors. Mediating ideational content in drawing through metaphors
Emneord (Nøkkelord):
, ideational drawing, cognitive linguistic metaphor theory, metaphor, metonymy, educational devices
Sammendrag
It is not easy to express abstract concepts, such as time and society, in a drawing. The subject of this article is rooted in the educational issue of visually expressing themes represented by abstract concepts. However, it is possible to find means and devices to express such ideas. This article shows how metaphors can be used to express such ideas visually. Cognitive linguistic research argues that metaphors are crucial in the verbal communication of abstract concepts. This article also attempts to show that metaphors are important in visual communication. The cognitive linguistic metaphor theory of George Lakoff and Mark Johnson is used here to investigate how metaphors are used to construct meaning in the drawings of cartoonist and illustrator Finn Graff and artist Saul Steinberg. The article presents a few examples of how visual devices structure the abstract concept of time. It then proceeds to explain how symbols function as metonymies and provides an overview of the different types of metaphors and how they are used to express meaning in drawings. The article concludes by attempting to provide new insights regarding the use of visual metaphors.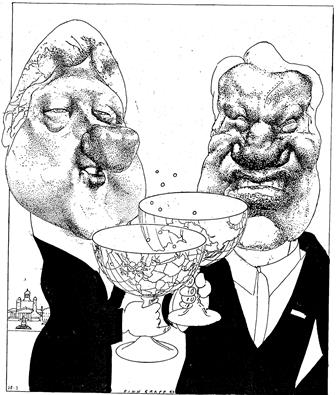 Nedlastinger
Hvordan referere
Ingebrethsen, B. (2013). Drawing with Metaphors. Mediating ideational content in drawing through metaphors. FormAkademisk , 6(3). https://doi.org/10.7577/formakademisk.744
Lisens
Forfatteren(e) beholder sin opphavs- og kopieringsrett til eget manuskript, men gir tidsskriftet varig rett til 1) å fremføre manuskriptet for offentligheten i den opprinnelig publiserte digitale form, og 2) å registreres og siteres som første publisering av manuskriptet.
Forfatteren må selv forvalte sine økonomiske kopieringsrettigheter overfor eventuell tredjepart.
Tidsskriftet gir ingen økonomisk eller annen kompensasjon for innsendte bidrag, medmindre det er gjort særskilt avtale om dette med forfatteren(e).
Tidsskriftet plikter å arkivere manuskriptet (inklusive metadata) i den opprinnelig publiserte digitale form, i minst ett dertil egnet åpent tilgjengelig langtidsarkiv for digitalt materiell, som for eksempel i de norske universitetenes institusjonsarkiv innen rammen av NORA-samarbeidet.
Lesere av tidsskriftet kan ta utskrift av de fremførte manuskriptene under samme betingelser som gjelder ved kopiering av fysiske eksemplar. Dette innebærer at masseframstilling av fysiske eksemplar, eller framstilling av eksemplar for kommersielle formål, ikke er tillatt uten etter avtale med forfatteren(e).