Systemic Government and the Civil Servant. A New Pattern for Systemic Design
Emneord (Nøkkelord):
systemic design methodology, systemic foresight, civil servant, public policy, cultural change, government
Sammendrag
This article examines the emerging application of systemic design methodology within government as practiced by the Alberta Public Service in Edmonton, Canada. A case study, from a practitioner's perspective, for systemic policy design is presented as an innovation facing approach useful for cultural change and decision-support.  Lessons about applying systemic design within government and essential capabilities and qualities of practitioners are outlined. For some systemic designers, government might be the best place to effect systemic change especially those particularly concerned about advancing stewardship and innovation within the culture of government. This article is useful to public sector practitioners interested in applying systemic methodology to complex and long-term policy predicaments.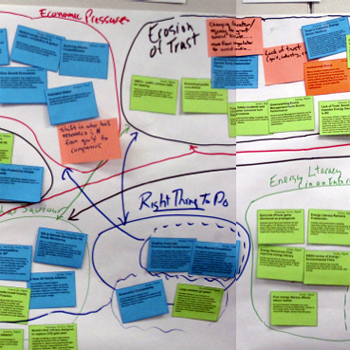 Nedlastinger
Hvordan referere
Veale, J. A. (2014). Systemic Government and the Civil Servant. A New Pattern for Systemic Design. FormAkademisk , 7(3). https://doi.org/10.7577/formakademisk.792
Lisens
Forfatteren(e) beholder sin opphavs- og kopieringsrett til eget manuskript, men gir tidsskriftet varig rett til 1) å fremføre manuskriptet for offentligheten i den opprinnelig publiserte digitale form, og 2) å registreres og siteres som første publisering av manuskriptet.
Forfatteren må selv forvalte sine økonomiske kopieringsrettigheter overfor eventuell tredjepart.
Tidsskriftet gir ingen økonomisk eller annen kompensasjon for innsendte bidrag, medmindre det er gjort særskilt avtale om dette med forfatteren(e).
Tidsskriftet plikter å arkivere manuskriptet (inklusive metadata) i den opprinnelig publiserte digitale form, i minst ett dertil egnet åpent tilgjengelig langtidsarkiv for digitalt materiell, som for eksempel i de norske universitetenes institusjonsarkiv innen rammen av NORA-samarbeidet.
Lesere av tidsskriftet kan ta utskrift av de fremførte manuskriptene under samme betingelser som gjelder ved kopiering av fysiske eksemplar. Dette innebærer at masseframstilling av fysiske eksemplar, eller framstilling av eksemplar for kommersielle formål, ikke er tillatt uten etter avtale med forfatteren(e).