Systemic Design: Two Canadian Case Studies
Emneord (Nøkkelord):
systemic design, design thinking, systems thinking, methodology, comparative analysis, procurement, natural resource management.
Sammendrag
This paper introduces two novel applications of systemic design to facilitate a comparison of alternative methodologies that integrate systems thinking and design. In the first case study, systemic design helped the Procurement Department at the University of Toronto re-envision how public policy is implemented and how value is created in the broader university purchasing ecosystem. This resulted in an estimated $1.5 million in savings in the first year, and a rise in user retention rates from 40% to 99%. In the second case study, systemic design helped the clean energy and natural resources group within the Government of Alberta to design a more efficient and effective resource management system and shift the way that natural resource departments work together. This resulted in the formation of a standing systemic design team and contributed to the creation of an integrated resource management system. A comparative analysis of the two projects identifies a shared set of core principles for systemic design as well as areas of differentiation that reveal potential for learning across methodologies. Together, these case studies demonstrate the complementarity of systems thinking and design thinking, and show how they may be integrated to guide positive change within complex sociotechnical systems.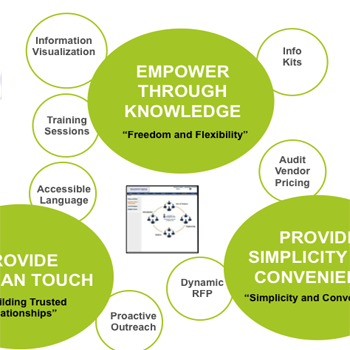 Nedlastinger
Hvordan referere
Ryan, A., & Leung, M. (2014). Systemic Design: Two Canadian Case Studies. FormAkademisk, 7(3). https://doi.org/10.7577/formakademisk.794
Lisens
Forfatteren(e) beholder sin opphavs- og kopieringsrett til eget manuskript, men gir tidsskriftet varig rett til 1) å fremføre manuskriptet for offentligheten i den opprinnelig publiserte digitale form, og 2) å registreres og siteres som første publisering av manuskriptet.
Forfatteren må selv forvalte sine økonomiske kopieringsrettigheter overfor eventuell tredjepart.
Tidsskriftet gir ingen økonomisk eller annen kompensasjon for innsendte bidrag, medmindre det er gjort særskilt avtale om dette med forfatteren(e).
Tidsskriftet plikter å arkivere manuskriptet (inklusive metadata) i den opprinnelig publiserte digitale form, i minst ett dertil egnet åpent tilgjengelig langtidsarkiv for digitalt materiell, som for eksempel i de norske universitetenes institusjonsarkiv innen rammen av NORA-samarbeidet.
Lesere av tidsskriftet kan ta utskrift av de fremførte manuskriptene under samme betingelser som gjelder ved kopiering av fysiske eksemplar. Dette innebærer at masseframstilling av fysiske eksemplar, eller framstilling av eksemplar for kommersielle formål, ikke er tillatt uten etter avtale med forfatteren(e).