From Product to Service Design: A Thinking Paradigm Shift
Emneord (Nøkkelord):
Service design, product design, system thinking, paradigm shift, innovation, problem solving
Sammendrag
Society, industry and the economy are all experiencing changes caused by a shift from products to services. While a "problem-solving" approach is commonly used for the development of products, new design approaches are needed as the primary unit of exchange moves from goods to services.  This research argues that a fundamental transformation in the design world is taking place, manifested in a thinking paradigm shift from problem solving (designing products) towards systems thinking (designing services). This paper draws on design literature to identify concepts of systems thinking and problem solving to help understand core elements in the shift from product to service design. It also reports on a series of semi-structured interviews with designers working in five design consultancies that have moved from product design to services design. The results show a change in the way designers think and approach projects when facing the challenges of designing services, confirming a movement from problem solving to systems thinking. However, systems thinking is not replacing problem solving but complementing it. The results also indicate that the growing complexity of the issues designers deal with influences the adoption of systems thinking in responding to service design challenges, as well as current changes in people's ideas about sustainability and  society.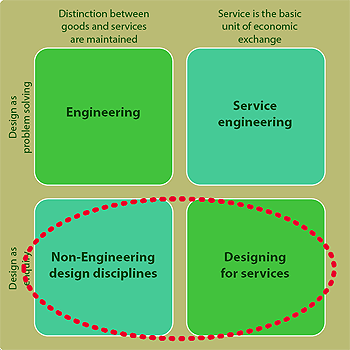 Nedlastinger
Hvordan referere
Rodriguez, L., & Peralta, C. (2014). From Product to Service Design: A Thinking Paradigm Shift. FormAkademisk , 7(3). https://doi.org/10.7577/formakademisk.801
Lisens
Forfatteren(e) beholder sin opphavs- og kopieringsrett til eget manuskript, men gir tidsskriftet varig rett til 1) å fremføre manuskriptet for offentligheten i den opprinnelig publiserte digitale form, og 2) å registreres og siteres som første publisering av manuskriptet.
Forfatteren må selv forvalte sine økonomiske kopieringsrettigheter overfor eventuell tredjepart.
Tidsskriftet gir ingen økonomisk eller annen kompensasjon for innsendte bidrag, medmindre det er gjort særskilt avtale om dette med forfatteren(e).
Tidsskriftet plikter å arkivere manuskriptet (inklusive metadata) i den opprinnelig publiserte digitale form, i minst ett dertil egnet åpent tilgjengelig langtidsarkiv for digitalt materiell, som for eksempel i de norske universitetenes institusjonsarkiv innen rammen av NORA-samarbeidet.
Lesere av tidsskriftet kan ta utskrift av de fremførte manuskriptene under samme betingelser som gjelder ved kopiering av fysiske eksemplar. Dette innebærer at masseframstilling av fysiske eksemplar, eller framstilling av eksemplar for kommersielle formål, ikke er tillatt uten etter avtale med forfatteren(e).