The Global Studio - Incorporating Peer-Learning into the Design Curriculum
Emneord (Nøkkelord):
peer tutoring, peer learning, learning to deal with complexity, tutor-led learning, student-led learning
Sammendrag
In 'tutor-led' design education, lecturers reside at the centre of teaching & learning activi­ties. We argue that tutor-led design education does not prepare graduates sufficiently for working in highly complex professional capacities. We outline an alternative learning envi­­ron­ment named the Global Studio in which lecturers are more 'distant' in pedagogical activities. This 'distance' opens up learning spaces which expose students to complex project situations in preparation for professional working life. Global Studio projects are 'student-led' and contain explicit opportunities for peer tutoring to ensue. Feedback indicates that learners benefitted from engaging in peer tutoring. However, many students struggled with making important decisions when operating outside of the tutor-led learning environment. To maximise their benefit, we argue that student-led projects featuring peer-tutoring should be scaffolded throughout design programmes to provide students with a sufficient level of expo­sure to this mode of learning.
Image by artist Malcom Jones. http://www.malcomjones.com/index.htm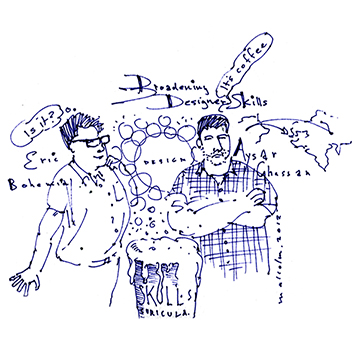 Nedlastinger
Hvordan referere
Ghassan, A., & Bohemia, E. (2015). The Global Studio - Incorporating Peer-Learning into the Design Curriculum. FormAkademisk, 8(1). https://doi.org/10.7577/formakademisk.1406
Lisens
Forfatteren(e) beholder sin opphavs- og kopieringsrett til eget manuskript, men gir tidsskriftet varig rett til 1) å fremføre manuskriptet for offentligheten i den opprinnelig publiserte digitale form, og 2) å registreres og siteres som første publisering av manuskriptet.
Forfatteren må selv forvalte sine økonomiske kopieringsrettigheter overfor eventuell tredjepart.
Tidsskriftet gir ingen økonomisk eller annen kompensasjon for innsendte bidrag, medmindre det er gjort særskilt avtale om dette med forfatteren(e).
Tidsskriftet plikter å arkivere manuskriptet (inklusive metadata) i den opprinnelig publiserte digitale form, i minst ett dertil egnet åpent tilgjengelig langtidsarkiv for digitalt materiell, som for eksempel i de norske universitetenes institusjonsarkiv innen rammen av NORA-samarbeidet.
Lesere av tidsskriftet kan ta utskrift av de fremførte manuskriptene under samme betingelser som gjelder ved kopiering av fysiske eksemplar. Dette innebærer at masseframstilling av fysiske eksemplar, eller framstilling av eksemplar for kommersielle formål, ikke er tillatt uten etter avtale med forfatteren(e).