Underlying the carver's experience
Sensorimotor modulation in cerebellum when carving wood
Sammendrag
Woodcarvers often report their experiences as having an intense internal focus, and feeling of a close connection to the material. This article explore key processes in cells and organs that underlies these experiences, emphasizing the sensorymotor modulation in cerebellum. The article has two aims: To bring neurobiological knowledge into the making disciplines to better understand the making process; To mediate terminological differences between disciplines and open up new research-based hypotheses and theoretical foundations for future interdisciplinary studies. Findings include three topics for further exploration: 1) The overflow of information in cerebellum and the maker's experience of intense internal focus. 2) Cerebellum's function as generator of deliberate actions without involving the conscious self and the so-called preconscious element of the maker's negotiation. 3) The priority of neural circuits between sensory input and muscle output in Cerebellum at the cost of neural circuits to cerebral cortex' monitoring and self-reflection and the maker's experience as being close to the material. These findings expand upon previous knowledge developed in studies of making processes from sociocultural and philosophical point of view, and are useful for researchers and teachers interested in understanding and advancing the making disciplines and arts and craft education.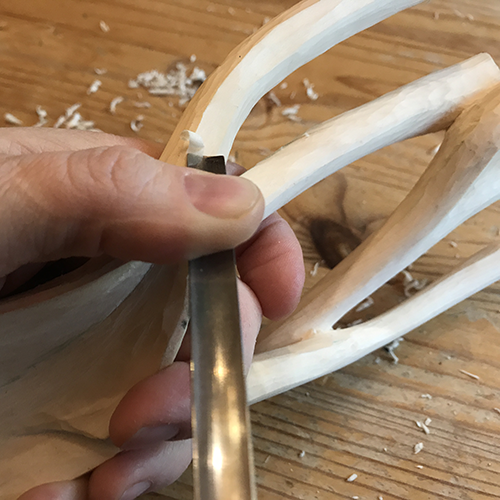 Nedlastinger
Hvordan referere
Gulliksen, M. S. (2020). Underlying the carver's experience : Sensorimotor modulation in cerebellum when carving wood. FormAkademisk - Forskningstidsskrift for Design Og Designdidaktikk, 13(3). https://doi.org/10.7577/formakademisk.3581
Lisens
Forfatteren(e) beholder sin opphavs- og kopieringsrett til eget manuskript, men gir tidsskriftet varig rett til 1) å fremføre manuskriptet for offentligheten i den opprinnelig publiserte digitale form, og 2) å registreres og siteres som første publisering av manuskriptet.
Forfatteren må selv forvalte sine økonomiske kopieringsrettigheter overfor eventuell tredjepart.
Tidsskriftet gir ingen økonomisk eller annen kompensasjon for innsendte bidrag, medmindre det er gjort særskilt avtale om dette med forfatteren(e).
Tidsskriftet plikter å arkivere manuskriptet (inklusive metadata) i den opprinnelig publiserte digitale form, i minst ett dertil egnet åpent tilgjengelig langtidsarkiv for digitalt materiell, som for eksempel i de norske universitetenes institusjonsarkiv innen rammen av NORA-samarbeidet.
Lesere av tidsskriftet kan ta utskrift av de fremførte manuskriptene under samme betingelser som gjelder ved kopiering av fysiske eksemplar. Dette innebærer at masseframstilling av fysiske eksemplar, eller framstilling av eksemplar for kommersielle formål, ikke er tillatt uten etter avtale med forfatteren(e).