Aesthetic Learning Processes in Early Childhood and Early Years Education
Reflections on Educating for Sustainable Development and use of Visual Tools and Materials
Abstract
Artikeln är baserad på konstbaserat kreativt arbete i förskolan och skolans yngre åldrar och som presenterades vid Make & Learn-konferensen vid Göteborgs universitet i september 2019. Syftet med artikeln är att exemplifiera arbete med ekologi och hållbarhet genom användning av estetiska lärprocesser i förskola och skolans tidiga åldrar, och för att lyfta fram användningen av olika material med estetiska verktyg. Artikeln syftar till att presentera arbete med hållbarhet baserat på SDG-målen som en viktig del av förskolans och skolans tidiga åldrar i linje med direktiv i läroplaner i två av de nordiska länderna. Empirin gällande de presenterade projekten insamlades mellan åren 2011–2019 på en kombinerad förskola och grundskola för tidiga åldrar i Finland och på två förskolor i Sverige, som arbetar med hållbarhet och estetiskt lärande. Resultaten presenteras baserat på en analys av observationer på förskolorna, presentationer om utbildningsverksamheten gjord av rektorer och lärare, samt av fotografier med fokus på användning av olika slags visuella, multimodala och optiska material. Estetiska och multimodala utbildningspraktiker exemplifieras gällande hur man arbetar med inkluderande och hållbar utbildning.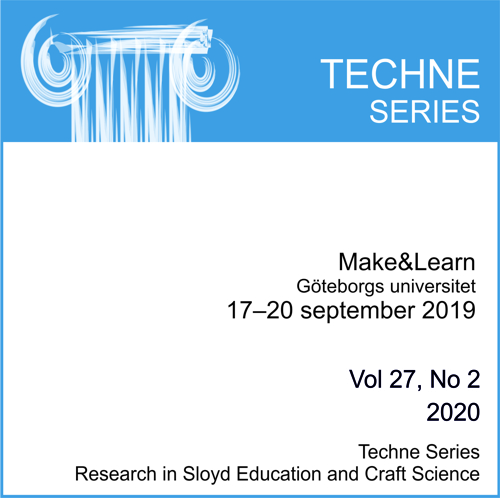 Downloads
Referera så här
Häikiö, T. K. (2020). Aesthetic Learning Processes in Early Childhood and Early Years Education: Reflections on Educating for Sustainable Development and use of Visual Tools and Materials. Techne Serien - Forskning I Slöjdpedagogik Och Slöjdvetenskap, 27(2), 15–30. Hämtad från https://journals.oslomet.no/index.php/techneA/article/view/3567
Licens
Authors who publish with this journal agree to the following terms:
Authors retain copyright and grant the journal right of first publication with the work simultaneously licensed under a Creative Commons Attribution License that allows others to share the work with an acknowledgement of the work's authorship and initial publication in this journal.
Authors are able to enter into separate, additional contractual arrangements for the non-exclusive distribution of the journal's published version of the work (e.g., post it to an institutional repository or publish it in a book), with an acknowledgement of its initial publication in this journal.
Authors are permitted and encouraged to post their work online (e.g., in institutional repositories or on their website) prior to and during the submission process, as it can lead to productive exchanges, as well as earlier and greater citation of published work (See
The Effect of Open Access
).