Garment Sewing as a Leisure Craft
Abstract
The aim of this study is to depict the reasons for garment sewing as a leisure craft in the narratives of female textile craft makers and describe the meanings behind the activity. The study was based on the written narratives of 781 crafters aged 19 to 91 years. First-person narratives were collected via a request published in regional newspapers in all 19 provinces in Finland. The assignment was loosely formulated to encourage crafters to write about the meanings of crafting as a leisure activity. The study comprised a two-phase data analysis. The first sample of 100 narratives, which included references to sewing, was selected and analysed using abductive qualitative content analysis. In the second phase, the whole data (N=781) were analysed using Atlas.ti, initially through automatic search and coding features for sewing, clothing and design. Each code was then analysed in more detail to form new categories. The new data from the second phase were also compared with the results of the first phase to provide more in-depth interpretations. During the analysis, three types of reasons for sewing garments were identified: Utility sewing, Process-centred sewing and Product-centred sewing. The results show that meaning-making in sewing as a leisure activity had several properties that enhance the well-being of the active sewers. For the sewers, the garments served as a symbol and a means of achieving self-fulfilment. The results highlight the sustainable way of wearing and making garments and, moreover, the everyday effects of crafting.
Keywords: clothing, craft, leisure, meaning-making, sewing, well-being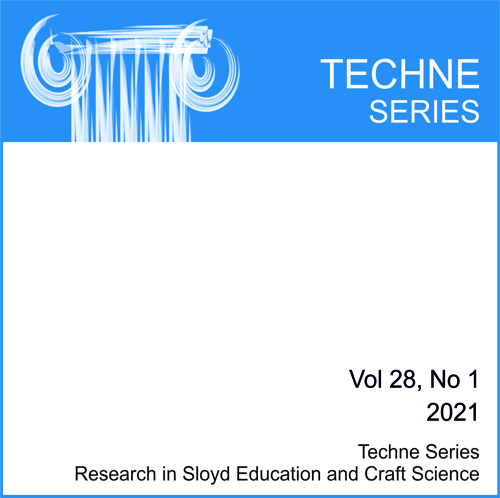 Downloads
Referera så här
Kaipainen, M., & Pöllänen, S. (2021). Garment Sewing as a Leisure Craft. Techne Serien - Forskning I slöjdpedagogik Och slöjdvetenskap, 28(1), 1–15. Hämtad från https://journals.oslomet.no/index.php/techneA/article/view/4021
Licens
Copyright (c) 2021 Minna Kaipainen, Sinikka Pöllänen
Det här verket är licensierat under en Creative Commons Erkännande 4.0 Internationell-licens.
Authors who publish with this journal agree to the following terms:
Authors retain copyright and grant the journal right of first publication with the work simultaneously licensed under a Creative Commons Attribution License that allows others to share the work with an acknowledgement of the work's authorship and initial publication in this journal.
Authors are able to enter into separate, additional contractual arrangements for the non-exclusive distribution of the journal's published version of the work (e.g., post it to an institutional repository or publish it in a book), with an acknowledgement of its initial publication in this journal.
Authors are permitted and encouraged to post their work online (e.g., in institutional repositories or on their website) prior to and during the submission process, as it can lead to productive exchanges, as well as earlier and greater citation of published work (See
The Effect of Open Access
).